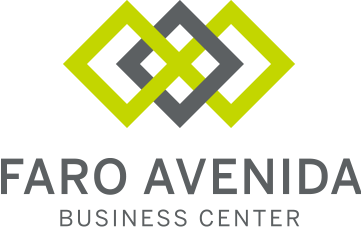 Why are we different?
The difference of the project is in the hybrid model that presents, combining physical offices, coworking and virtual offices. In addition, the building has spaces for training, meetings and meals, being this one, still tapped for workshops of showcooking. All this adds up Reception support and access available to 24-hour/7 days a week.

The great advantage, in Faro Avenida Business Center, is the quality standard in services provided and unique infrastructures, makes it different from other projects existing on the market.

Access for people with reduced mobility.
COMPOSED SPACE BY:
- 25 Offices between the 10 to 25 m2;
- Meeting rooms;
- Training rooms for up to 50 people;
- Cowork desks;
- Lounge area;
- Kitchen with dining area;
- 7 wc's, including a shower and one for people with reduced mobility.

All work spaces enjoy natural light and are equipped with Internet and dedicated telephone line.
ABOUT US?
The Faro Avenida Business Center was opened in September 2014. It's a new service space situated in one of the main avenues of Faro, which has about 1000 m2 spread over two floors.
Your office. At any time. A brand new concept, newly born in the center of Faro, in the Algarve. Visit us!